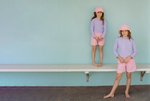 SONNIE SWIM - PROTECTING KIDS IN THE SUN
Protecting our children's skin from sun burn and over exposure to the sun can be an arduous task! Between the struggle of getting sunscreen on wiggly little ones to constantly reminding the older kids to pause for an SPF top up, we welcome any and all help to make swimming seasons safer and easier to manage for our families.
So what is the difference between SPF and UPF?
SPF stands for sun protection factor, a measurement of how long a sunscreen (and not clothing) will protect you from the sun before you get burned.
UPF stands for ultraviolet protection factor and measures the ability for fabric to block sunlight. It's assigned to clothing by how well it keeps out ultraviolet sunlight, both UVA and UVB. A UPF of 30 means it will allow only 1/30th of the sun's rays to penetrate the clothing. A standard t-shirt without sun protection may only have a UPF rating of 5-6.
It is worth nothing that SPF measures only ultraviolet B, where UPF measures both ultraviolet B [UVB] and ultraviolet A [UVA] rays' blockage. Using the two together will give the best results year round which is exactly why we felt the need to introduce a Long Sleeve Swim Tee into our summer range. This rash shirt has an UPF of 30 and is designed to be a slightly looser fit so that the fabric doesn't stretch and let sun rays in. Made from durable quick drying 84% nylon and 16% spandex fabric, and available in Violet and Navy, this shirt will become a summer staple in and out of the water.
Founders favourites for sun protection:
Eloise - My own favourite sunscreen is Coola SPF 50, and for my kids it's La Roche-Posay Anthelios Dermo-paediatrics Wet Skin Gel. With three boys who are constantly in and out of the water in summer it's important that our sunscreen can be applied to wet skin like this one. I also love Cetaphil Sun SPF 50+ Kids Lotion and usually have a bottle or two of both on the go. Always remember to check expiry dates on your sunscreen!
Ally - Along with hats and rash tops my go-to for my kids (and myself) is the Cetaphil Sun Kids 50+ Liposomal Lotion. It goes on so easily and doesn't leave any white cast like some other high SPF lotions do. For my face I use an SPF every day. The Heliocare 360 Oil-free tinted sunscreen is great in summer for a fresh glow. For daily wear year-round, I use IS Clinical SPF 50+ – it's nice and light, which works over moisturizer/ under makeup.